Holiday 2014 Exhibition: Impressions of Light
December 6, 2014 - January 18, 2015
The Pomona Cultural Center is pleased to announce the Holiday Season 2014 Art Exhibition, Impressions of Light, featuring a collective of photography by Martin Joffe, Jia Han Dong, and Boris Hardouin in conjunction with stained glass and kinetic hanging glass sculptures by Leslie Kenney.
One element inherent in the photographic creative process is light. The complexities begin to fall in place when the effects of light are understood.The exhibition embodies an exploration of light and the influence it has on photographs, in combination with the detailed sensitivity created through digital lens and software technology. The subject and intensity of various light sources are inspired by cityscapes, landscapes, floral and colors in nature, captured at a moment in time. Conversely the stained glass and kinetic bead hanging sculptures are objects when diffused with light give the viewer images, which are temporal and ever changing. The time of day, the brightness of the sun, or the clouds in the sky can transform the work and give a sense of the ever-changing rhythms in life and the forces of nature. Creative vision can transcend the physical world, creating a fleeting moment that is visually stunning and then lost in consciousness.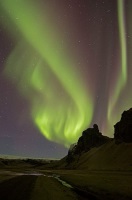 Martin Joffe's images are the result of combining the best of digital photography and the application of digital editing software. He feels that the synergies created by the two result in an image where the total is greater than the sum of its parts.Mechanical skills and artistic creativity are employed at each step to create images that convey his impression of reality. The tools of the digital photographer allow him to share his experiences on both a realistic and impressionistic level. Not only does he try to capture what is in an image, but he tries to portray what might have been there under different circumstances.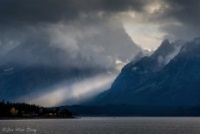 Jia Han Dong's interest in photography started in his high school years over 30 years ago. However, due to many job changes and relocations, photography was just an on-and-off hobby until 1995, when he got serious about it. After a few years of warming up, he was shooting slides exclusively for color since 1998 in both 35mm and medium format. He also shoots, develops, and creates enlarged B&W prints in his basement darkroom. He got his first DSRL camera in 2003, and now mainly shoots in digital. However, he believes there will always be a place for film in photography so he still shoots in B&W film from time to time to remind himself of the classic forms of photography.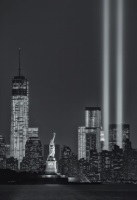 Boris Hardouin is a passionate and enthusiast photographer, teacher, and organizer with a day job in Information Technology. Boris focuses more specifically on landscapes, cityscapes, seascapes, nature and architecture photography and works at marrying art and technology with the goal of creating images that convey how beautiful and interesting our environment really is. Originally from France, Boris is now established in northern New Jersey, but he enjoys traveling and discovering local and distant places around the world. Boris serves in various club functions; he was recently President of the Ridgewood Camera Club and is a member of the Photographic Society of America.

Leslie Kenny, with a background in art and an eye for color, enjoys designing pieces in stained glass. From jewelry boxes to windows and everything in between, her creations are unique and completely customizable. Her work can be seen around the tri-state area including the Museum of Jewish Heritage in Manhattan, Body Bank Fitness, and at United Hospice of Rockland in New City.
Opening Reception | Saturday, December 6, 2014, from 6:00 pm - 9:00 pm
Featuring a live music performance with Elisabeth Beckwitt and Christiana Bailey.
Elisabeth Beckwitt is a 21-year-old Boston native singer/songwriter. She is an indie pop writer with influences from Ingrid Michaelson, Sara Bareilles, and The Civil Wars. Her songs are from the heart and tell her story in a way that hooks you in so you feel like it's your story too. She is excited to be releasing a 4 song EP in December of original tunes, and for her big move to Nashville to pursue a career in music.
Christiana Bailey hails from the incredible town of Fort Collins, Colorado. From there, she made her way to the great city of Boston for the experience of a lifetime at Berklee College of Music. A singer from the age of two years old as well as a guitarist and occasional ukulele player, she draws influences from the timeless Joni Mitchell, Patti Griffin, John Denver, and The Indigo Girls. Christiana is moving to Nashville in just a few short months to further pursue her musical ambitions, but she hopes to just enjoy her last bit of east coast culture in the mean time.