Summer 2014 Exhibition: Primal Images - Pigment & Clay
June 8 - July 27, 2014
The Pomona Cultural Center is pleased to announce the Summer 2014 Art Exhibition, Primal Images - Pigment & Clay, a selection of works by William Chaiken and Marilyn Friedman.
The rhythm and dynamic of the human or animal form and its environment or space is an essential component of each artist's work. Whether in pigment or clay, the influence of mythology is present. The depth, use of color and contour lines translate into abstract expressive shapes, visually comprehensible and impressive to the eye. Ultimately exploring themes of time and of the way in which art communicates, it is a moment to distinguish between subject matter and content of artistic vision and the idea of the artist's creation.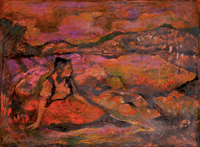 William Chaiken was born in Russia in 1921 and emigrated with his family to Canada in 1926. He studied at the Winnipeg School of Art and later at the Art Students League in New York City. Chaiken's paintings have been shown in solo shows throughout the USA and Europe and in many major exhibitions, including the Carnegie International, Corcoran Biennial, and six Whitney Annual Shows. His work is in the permanent collection of the Whitney Museum of American Art, New York, and the San Joaquin Museum, California and in private collections worldwide.
Chaiken was also a scenic painter for theatrical productions on Broadway, the Metropolitan Opera, and for movies by directors such as Martin Scorcese, Woody Allen, and Sidney Lumet. He lives and paints in Hillburn, New York.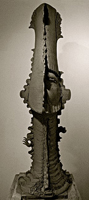 Marilyn Friedman studied sculpture at The Art Students League of New York, Skowhegan School of Painting and Sculpture, The University of Siena, Italy, and received a BA in Art History and Sculpture from Stony Brook University. She is the recipient of numerous grants and awards for her portrait, figurative, and abstract works from organizations such as The National Academy of Design, The National Sculpture Society and The National Arts Club. She has created commissioned sculpture for Kohler, Lufthansa and Absolut, and her work is in many private collections.
She has taught sculpture at Parsons School of Design, Montoya Art Studios, the Vytlacil Campus of The Art Students League, and was on the Sculpture Faculty of the National Academy School. She is currently an instructor at The Art Students League of New York.
Opening Reception | Sunday, June 8, 2014, from 5:00 - 8:00 pm
Featuring live music performance with Marci Elyn Schein, Michael Ficocelli & Guest.