Spring 2014 Exhibition: Curves
The Pomona Cultural Center is pleased to announce the Spring 2014 Art Exhibition, CURVES, a selection of multimedia works by Barbara Galazzo, Carla Goldberg and Ricardo Fuentes.
The exhibition embodies an abstract expression for each artist's imagination and depicts their love, beauty, and artistic vision, through the various styles, use of color, texture, shape, material, and medium. Creations of artwork include water series fused glassworks, sea foam sculptural drawings, and wave sculptures, carefully crafted from cardboard slices forming unique wave patterns.
Conceptual responses and intensity help to provide an understanding towards the impact and complexity of our surrounding environment and the inspiration and expression of Shapiro's work. Together, they convert the hope and deepen our interest into the awareness of sharing and clear communication to help transform both the human spirit and create a better world rather than rely on common perception and enthusiasm.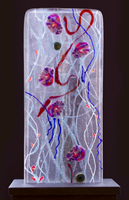 Barbara Galazzo is a New York fused glass artist originally from New Orleans, LA. Her current series of sculptures is based on the color spectrum of water and the many vibrant hues existing below the surface of water. She laboriously creates dozens of pattern bars which are sliced and fused into the multi layered sculpture to create a suspended underwater environment. By melding light and color, a kaleidoscopic window of movement is created exploring the depth and fragile inner beauty that exist around us to give a free floating feeling and effects of "full spectrum color" as part of a healing methodology.
Her award winning creations have been featured in major galleries, museums, and commercial installations. She has been exhibited in numerous exhibitions including Bulls eye Glass at WG@BEII, Portland, Oregon, Glass Now, the National Liberty Museum in Philadelphia, PA, the Art Institute of Chicago Museum, Chicago, ILL, the Chicago S.O.F.A. show, Chicago, ILL, the Kentucky Museum of Art and Craft, Louisville, KY, and Skylight Gallery, NYC, NY.
Her work is part of the permanent corporate collections of Kaiser Permanente, Washington DC; Northwestern Hospital, Chicago, Il; Fairmont Princess Hotel, Scottsdale, AZ; and Ruth's Chris Steakhouse, Knoxville, TN. In 2004 her "Ribbon Sculpture - Collage Series" won a Niche Magazine Award.
Galazzo is a curator, director, and art promoter, having created the ArtFull Living Designer Show House, Cold Spring Arts Open Studios Tour and is the curator/director of Gallery 66 NY in Cold Spring, NY.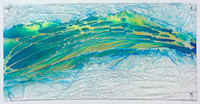 Carla Goldberg graduated with honors from the University of Redlands, Johnston Center, California where she studied under esteemed L.A. based figurative painter John Nava and earned her Master of Fine Arts degree from (MICA) Mount Royal Graduate School of Art. There she studied under noted museum artist Salvatore Scarpitta, best known for his sculptural studies of movement.
Her current series of sculptural mixed media drawings is based on the childhood memory of sea foam on beaches and water surface. She meticulously draws hundreds of thousands of dots in multilayered lines of looping white ink on acrylic panels. Drawing becomes sculpture as light passes through her work and becomes part of the experience. The delicate, lacy, sea foam drawings act as a synaptic matrix holding a dreamy memory suspended in ethereal light and shadow.
She has exhibited in numerous solo and group exhibitions nationally and internationally in museums, universities and galleries. Examples include The Tabernacle MoMA Wales, The Brooklyn Waterfront Museum and the Dolmabahce Palace (State Gallery) Istanbul, Turkey. Most recently she exhibited with Tria Gallery and Denise Bibro Fine Art, both in NYC with upcoming exhibits with Good Question Gallery in Chelsea and Kunstleben Gallery, in Berlin. Her solo exhibition at Southwest Minnesota State University Art Museum resulted in the acquisition of her work into their permanent collection.

Ricardo Fuentes
grew up in a technical yet creative environment. Working out of the old Beacon High School, a hub of artistic activity, Ricardo created his first few pieces, sculptures such as Regina (2013) and Hannah (2013). These sculptures, carefully crafted from cardboard slices, form unique wave patterns based on the angle from which they are viewed.
Ricardo offered this to say about the medium, in which he does most of his work: "Something about the cardboard's simplicity, abundance, and periodic structure is very appealing to me; it's amazing how three sheets of paper can be transformed into such a versatile material by putting them together and wrinkling the middle."
His wave sculptures borrow from the world of 3D printing, making use of many uniquely shaped layers to create a larger scale contour. Ricardo was able to apply a remarkable transformation to a very ordinary material. Since beginning his work in the art world in late 2012, Ricardo has made a name for himself as an individual whose atypical background enables him to create technical pieces that provoke both thought and emotion.
Opening Reception | Saturday, April 19, 2014, from 6:00 - 9:00 pm
Featuring live music performance with Lyn Christopher and guest performers.