Winter 2015 Exhibition: Primordial Emergence
February 8 - March 22, 2015
The Pomona Cultural Center is pleased to announce the Winter 2015 Art Exhibition, Primordial Emergence, featuring oil painting by Mark Weiss and sculpture by Cristina Biaggi.
Ancient myths and goddesses are the source of each artistís vision and inspiration; the depth and contour of lines translate into expressive details and abstract forms, visually comprehensible and imaginatively impressive to the eye. Exploring the way art communicates provides an opportunity to distinguish between subject matter and content of artistic stimulation, and the essence of artistís imagination. The ancient, mystical world transcends through the stunning work on canvas and paper by Mark Weiss and the subtle sculptural work by Cristina Biaggi. Together, they transform the human spirit and invoke the power of the mythological world.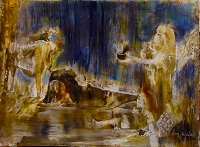 Mark Weiss studied painting at the Art Students League and graduated from SUNY Albany with a degree in Psychology. "I regard him as one of the most brilliant of the American painters. He is moving with great courage in a direction that few others find themselves able to go. A certain flatness has come over American culture and in american painting... Mark Weiss, by his tremendous skill in color and gesture, is able to move convincingly into a place where the demons and divinities can be seen by us all." Robert Bly, poet and author. "Mark Weiss is a kind of sea diver. His stunning paintings extricate underworld gifts that few artists have the aptitude to even contemplate, let alone find. He has a loyalty to his practice and its mysteries that place him far outside the village of modern art, but directly in the line of a much older tradition. The paintings both lure us forward with a hint of boar's tusk and raven's eye, but also contain many dark holes through which our imagination flies free and mischievous. The work is a rare gift to a troubled world." Martin Shaw, poet and author.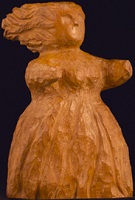 Cristina Biaggi, Ph.D., has achieved significant recognition for her varied contributions to the field of Goddess-centered art and scholarly studies. Her works are a reflection and an extension of her lifelong interest in art, archaeology, women studies, literature and classics, acquired at Vassar, Harvard and New York University. When she isn't preparing new pieces for an exhibition, Dr. Biaggi is writing and lecturing. She continues her studies in Kung Fu (Black Sash) and teaches Tae Kwon Do as a 5th Degree Black Belt. She has just finished writing her autobiography, Art and Activism, and is seeking a publisher. Her artwork has focused on creating bronze portraits of people and their animal companions, and abstract collage. In talking about her creative process, Dr. Biaggi says, "As an artist, I enjoy transitioning from realistic work to abstract work. Creating my bronzes requires my total immersion in contemplating and rendering the physical, psychological and spiritual aspects of my subjects‒a process where I must concentrate on capturing the minute details of a face and the soul beyond it."
A March Poetry Reading with The Ramapough Poets