Summer 2015 Exhibition: Expressions
June 7 - July 26, 2015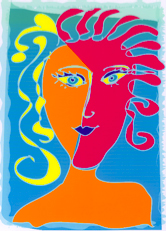 The Pomona Cultural Center is pleased to announce the Summer 2015 Art Exhibition, Expressions, featuring acrylic paintings, archival prints and wood panel carvings by Simon Jeruchim and woodcarvings and wood, copper and metal collage sculptures by Marty Kossover. (Above image: Cultural Center Exhibition Display)
The fundamental inspiration of each artistís vision is the abstract human form and the expressions, which depicts love, beauty, and contentment. Visually comprehensible and exploring the way in which art communicates, their images give form and substance to the inner sense of self. The subject matter of their work and the ideas expressed in the artistsí creation become alive in their imagination and style. Together they deepen our interest into the awareness of sharing and clear communication to help transform both the human spirit and create a better world.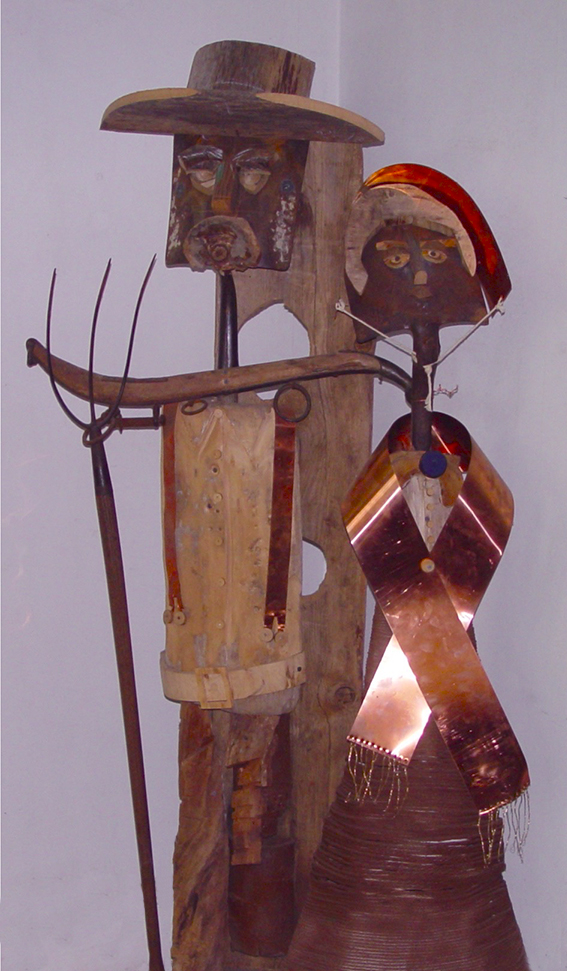 Marty Kossover began sculpting while on active service with the army in Korea. Although he has worked with wood, metal, and stone, he prefers wood because it breathes and feels more intimate. He prefers his work to be "gutsy" rather than pretty. Woodcarvings in this exhibition focus on human form and shape. "I feel happiest when I go into my studio, open the lights, put on classical music and let three hours seem like five minutes. The ideas come from the material and my imagination."
Simon Jeruchim is an artist residing in Pomona, New York. Born, raised, and educated in France, Simon graduated from the School of Applied Arts in Paris, and has attended the School of Visual Arts in New York City. He has displayed his artwork in galleries throughout Rockland County, and has permanent collections in the Korean War Veterans National Museum and Library in Springfield, Illinois, and the United States Holocaust Memorial Museum in Washington, D.C. Currently, Simon and his wife Cecile, both Holocaust surviors, have both spoken about their experiences, and are the proud parents of two daughters and grandparents of six grandchildren.
Reception | Sunday, June 14, 2015, from 5:00 pm - 8:00 pm
Live music performance by Don Falzone and Luke Franco.