Autumn 2014 Exhibition: Nature & Interaction
September 21 - November 9, 2014
The Pomona Cultural Center is pleased to announce the Autumn 2014 art exhibition, Nature & Interaction, will be on display from September 21 thru November 9, 2014. The exhibition will feature a selection of work by Andrew Mollica - acrylic and pastel, Joyce Byrnes - pastel, and Susanna Bergtold - painted woodcarving.
Landscapes, rock, water, and cartoon-like human and animal forms are an ideal inspiration for each artist's creative visions. Integrating and expressing the harmony of the natural world and outlining the sense of unity in visual rhythms, there exists a mixture of affection in human spirit, love for humanity, and irony of humankind.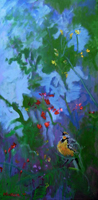 Andrew Mollica''s (MFA, School of Visual Arts) work for the past several years has concerned itself with his love of art and nature. At this point in his life these things are inseparable. As time moved on, his level of concern with choice of medium (oils, pastels, graphite, acrylic, etc) have become less important than the emotional and spiritual content of his work.
"If someone sees a work of art and doesn't get a sense of how the artist felt about the subject then that artist has failed."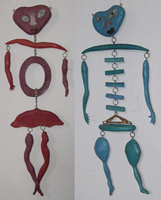 Susanna Bergtold is a wood carver and printmaker currently living in New Jersey. She studied at the Art Students' League of New York, The Rhode Island School of Design, Skowhegan School of Painting and Sculpture, and Riverdale Country Day School. She served as President of Manhattan Graphics Center from 1999 - 2000, and was an Artist in Residence at Newark Museum Arts Workshop in 1998 and currently serving again as president of the Manhattan Graphics Center. She has exhibited locally and abroad. Her works are in many collections including the Museum of Modern Art Library.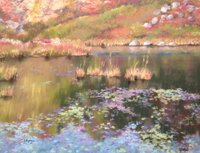 Joyce Byrnes is a native of Staten Island, New York. She has called Rockland County her home since 1997. Her pastel works on paper, depicting scenes from nature, are based on photographs or from plein air excursions. As a member of the Nyack Art Collective, her work is exhibited locally.
Opening Reception | Saturday, September 27, 2014, from 6:00 to 9:00 pm
Featuring a live performance by Joel Zelnik Trio.