Winter 2014 Exhibition: Pacific-on-Hudson
The Pomona Cultural Center is pleased to announce the Winter 2014 Art Exhibition, Pacific-on-Hudson, featuring multimedia works and sculpture by of Rapanui (Easter Island) native Santi Hitorangi in conjunction with acrylic paintings by his wife, Susan Hito Shapiro, native of Pomona, Rockland County.
The exhibition embodies and explores - not the enormous carved stone Moai statues of Easter Island - but the feelings integral to sense the experience of the enigmatic nature and culture of the Pacific Islands through the creative vision, style, and detail of the sculpture and works on canvas by Hitorangi.
Conceptual responses and intensity help to provide an understanding towards the impact and complexity of our surrounding environment and the inspiration and expression of Shapiro's work. Together, they convert the hope and deepen our interest into the awareness of sharing and clear communication to help transform both the human spirit and create a better world rather than rely on common perception and enthusiasm.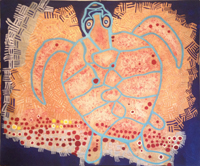 Santi Hitorangi is a native from Rapanui (Easter Island). Multimedia artist and environmental activist. He has showed his paintings and sculptures at the Museum of Natural History - New York, National Geographic Society - Washington, D.C., United Nations Headquarter -New York, United Nations Human Rights High Commission - Geneva, Switzerland, Moana Nui Conference - Honolulu, Hawaii and Berkley, CA, Museo Cultural -Santa Fe, New Mexico, Egyptian Theatre - Los Angeles, Pearl Pacific Resort - Suza, Fiji.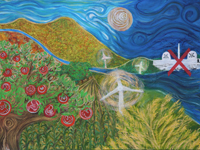 Susan Hito Shapiro is a native of Rockland County. Painter, environmental attorney and activist. She has shown her paintings on canvas and glass, drawings and prints at the Devorzan Gallery, Director's Guild of America, Santa Monica Galleria, The Pink-California; Jacob Javitz Center, Piezo Electric, Rapid Algebra, Henri Bendel, Around the Clock, Jacob Burns, Arts Alliance of Haverstraw, Garnerville Arts & Industrial Center; NYC Subway- New York; Alliance for Wild Rockies, Montana; Kongensgade Copenhagen, and various commissions.
Opening Reception | Saturday, February 15, 2014, from 6:00 pm - 9:00 pm
Featuring a live music performance with Wayne Cobham of Pomona and Guest performers.