Spring 2013 Exhibition: Invocation
The Pomona Cultural Center is pleased to announce the Spring 2013 art exhibition, INVOCATION, in collaboration with Sari Dienes Foundation featuring a selection of work by Sari Dienes. The collection for this exhibition will include early drawings, etchings, monoprints, rubbings and oil paintings. The show will run from Sunday, April 7, to Sunday, May 19, 2013.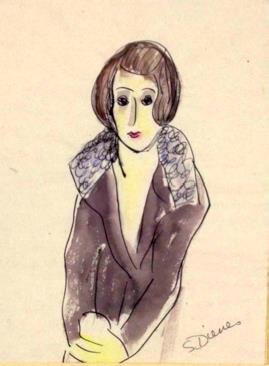 Sari Dienes' work underwent a dramatic shift after her first show in New York at the New School for Social Research in 1942. Sari studied with Amédée Ozenfant in Paris and London, where she was assistant director of his art school. She arrived in New York in 1939 as World War II broke out and did not return to Europe for thirty years. Sari recalled a radio interview in which Ozenfant, in response to one of her shows in the 1940s said, "She has now the courage to disregard everything that she knows in order to find out what she doesn't know anything about." An encounter with the vast emptiness of the American southwest and her simultaneous discovery of Zen Buddhism in the 1940s changed her whole attitude to life and art.
For Sari, this translated into the transition from figurative Surrealism to abstraction. She splashed and dripped, and found herself at Stanley William Hayter's world-renowned printmaking studio, Atelier 17, creating etchings, some of which are shown here for the first time. This transition is at the heart of this exhibition, which invokes her spirit of fearless experimentation across her sixty-year career. It is a journey through New York's rapidly changing artistic landscape from the 1940s to the 1980s. Although her work is not political per se, her philosophy - rooted in Zen Buddhism - infused her art making and became a way of life. She was an active participant in the feminist art movement and became an iconic figure in life and through her art.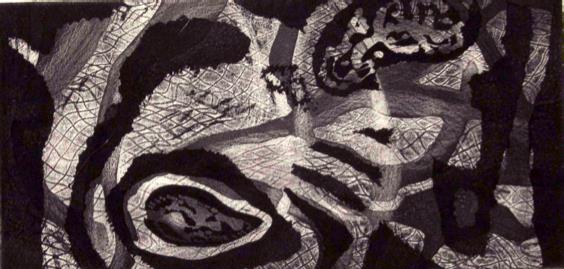 "It took me a whole lifetime to come to the conclusion or have the great fundamental idea of what art is about. Art is humanity's expressing, giving form, of the understanding of reality, of the moment. And reality is ... the wonderful old Zen definition: a circle without circumference, where the center is everywhere."

Please join us in celebrating Sari's expression from her beginnings in Paris in 1930, through her Surrealist figurative period of the 1940s, and Abstract Expressionism to her rubbings of the 1950s. Her innovative technique using a printer's brayer and ink is recognized as her most vital contribution to modern art. Both Robert Rauschenberg and Jasper Johns have cited her as an important influence.
Barbara Pollitt / Curator Sari Dienes Foundation
Opening Reception | Sunday, April 14, 2013, from 5:00 pm - 8:00 pm
Featuring a live music performance with Michael LeMorin & the band "PAWOL" The musicians include Jude Badiau, Paul U Newman and Daniel Lubin.
Michael LeMorin is the classic artist the world has been waiting to see and hear. Born in Ha´ti, Michael has traveled the world with his mesmerizing sounds. His music can be felt with your heart and spirit. Michael's music is a fusion of traditional Haitian roots music with a blend of Jazz, Bossa Nova, Salsa, Compas and World Beat.